Better Business Bureau
---
We appealed both commercial and residential with Richard and we are very satisfied with the results!
Vince L.
---
The services of attorney Richard Shapiro have successfully filed a property tax appeal on our behalf for 3 consecutive cycles and we are very grateful for their assistance!
Marcello C.
---
For years and years I would get these notes in the mail from attorneys offering to help get my property taxes reduced and I threw them away. In 2015 I decided to go for it and pay $50 to Richard Shapiro + a percentage of whatever they can save me. And by golly it worked. I have saved over $3000 and have paid Richard Shapiro $700 of that savings. And the customer service of Richard and his team including Erika in billing has been nothing sort of fantastic. I highly recommend them!
Steve A.
---
Great job. Easy to work with. I will use them again.
Paul C.
---
Google
---
5 stars
My investment group owned a vacant strip mall in Chicago. We did not realize (until we contacted Mr. Shapiro's office) that we were entitled to a huge tax savings due to the fact that it was unoccupied for four years. Not only did we receive a property tax savings for the current year, the firm was able to file something called a "certificate of error" going back another three years, realizing a gross savings of over $27,000. He sure knows this business!
---
5 stars
Can't say enough about Mischa. If there was a scale above five (5) stars, she would earn ten. I have used this law firm for years and each and every time I am in need of assistance, consultation, and/or advice, Mischa never fails. She is courteous, professional, and genuine and always goes above and beyond to help me with matters I know very little about. The service that she delivers is amazing and she is an excellent resource each and every time I have a question or need a resolution. Thank you Mischa. You are remarkable!
---
5 stars
I have relied on the Shapiro Group to keep my real estate taxes in line. I feel that I can relax because they are on the job. I feel confident that they are on the job and on top of their game.
---
5 stars
I am very satisfied with the service Mr. Shapiro has given me through the years we have been with him as a client. My prior efforts in dealing with the Cook County Assessor's office were not successful but he has been able to lower our assessment to match similar properties in our neighborhood.
---
Facebook
---
This is the third time that Richard Shapiro has been able to reduce my property taxes. Property taxes are very high in my area, and I was pleased that Richard Shapiro was successful again. When I first moved to my house, I got quite a few letters and postcards from firms offering to try to reduce my taxes. I'm glad I chose Richard Shapiro.
Patricia P. - 5 stars
---
Great attorney! Thank you for all you have done for us over the years. You have saved us substantial amount of money.
Joanna W. - 5 stars
Avvo
---
Good results on getting taxes reduced
5.0 stars
Richard and his team have been very helpful and responsive over the years. And they've succeeded in getting my taxes reduced -- which is most important! I look forward to working with them to get additional reductions in my property tax.
Kate
---
5.0 stars
Thank you to Richard Shapiro and his law firm for the outstanding representation they have provided me on both my commercial and residential property tax appeals over the years. I'm always happy to pay the bill due to all the savings. They've won numerous appeals for us on our 4 properties and I am consistently satisfied with their work. I will continue to refer him to my friends and family looking for assistance...
Bill W, Broker/Owner WDW Properties
---
A Satisfied Client
5.0 stars
Richard Shapiro, Attorney is a competent and honest property tax appeal attorney. He saved me over $700.00 on my 2013 property taxes and his fee was more than reasonable. It was a painless process from start to finish. I found him on the Better Business Bureau website when I was looking for someone to handle my appeal.
Yelp
---
I recently used Richard Shapiro to contest my property taxes and they did an amazing job and saving me money on my property taxes. They have a polished service where I called them up, they paired me with a representative on their team and they walked me through the entire process. In 2014 their payment structure was a small deposit ($50 at the time) and 50% of the first years winnings. In total I had to pay out around $370 which is a fair price when dealing with any law firm.

They did a great job looking at how my home was assessed and realized that the assessor was counting my attic space as livable square footage when it isn't since it's covered in 12" of blow in insulation. I filled out a few forms, got it notarized and they took over from there. A few months later, I got a letter in the mail stating that my assessment was lowered and that I'd see a tax savings. I was more than happy to send them a check for their services.

Next time, when I feel my property taxes are increasing more than they should, I'll definitely come back to Richard Shapiro and his team to help me make sure I"m paying my fair amount.
Bill C. - 5 stars
---
Attorney Shapiro and Staff made appealing my property taxes easy, painless, and their approach is obviously very effective! They were able to achieve a reduction both times they filed an appeal on my behalf! I'm very pleased with their services and will continue to use them!
Paul B. - 5 stars
---
The team did a great job getting my tax appeal filed, and I was very pleased with the results. The process was easy and communication was great throughout the appeal process.
Jeff S. - 5 stars


Personal Reviews
---
August 18, 2020
To: Pia, Kiambu, & Tracy
From: A Satisfied Client
Re: Your help
I just wanted to thank all of you for all the help and support that you gave me while your office has presented my property tax appeal to Cook County.
It's nice to know that people such as yourselves are there to assist people when confronting a governmental bureaucracy.
So, I hope that you like the pin(s) and wear them as a reminder of the great job you did not only for me but for all the other clients you serve while helping them navigate the property tax maze of Cook County.
A Satisfied Client - 5 stars
---
A+ for Kyler - just got off the phone with her and she was very helpful!!
A Satisfied Client - 5 stars

---
March 13, 2020
Dear Mr. Shapiro,
We send this note with huge gratitude to you for winning our appeal. It's true we seniors do need all the help we can get. Blessings on you and your staff!
A Satisfied Client - 5 stars

---
Dear Barry,
Thank you for all your help over the years! You are a wonderful asset to Shapiro (Attorney at Law). The whole company is wonderful. It is so many years I am dealing with Richard Shapiro. I go back to when he answered his own phones in the evening way in the beginning! I have given his name to all the [family name] family … and so many of our friends over the years. You have handled the financial end to help us and your attitude is so helpful. Thank you again for all that you do! God bless you and your family!!
A Satisfied Client - 5 stars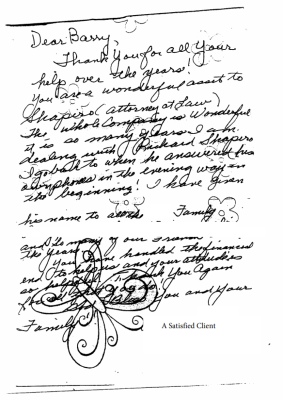 ---
January 9, 2020
Dear Richard Shapiro,
I am a customer of yours relating to my property tax appeals. This note is a big thank you for all the help your staff have been to me. I particularly want to thank Jeannine for her help when I last called your office. She was so very helpful and deserves a big, big thanks. All the people I have spoken to on your staff are helpful and know what they are doing. It is so appreciated that you are saving me so much on my property taxes.
P.S. Please share my thank you note with Jeannine. Thanks.
A Satisfied Client - 5 stars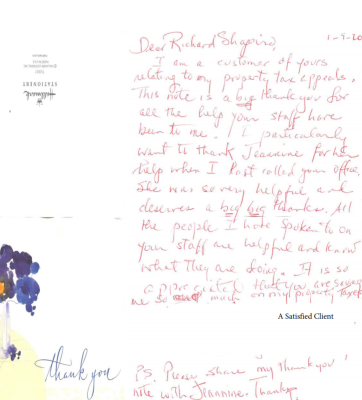 ---
July 17, 2018
Thank you very much. You are doing a great job. I am very satisfied and I tell everybody that they should hire you. Great results. Greatly appreciated.
A Satisfied Client - 5 stars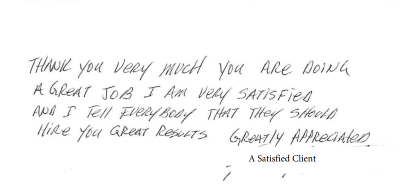 ---
December 2018
Thank you for all your help! Have a great holiday and a safe New Year!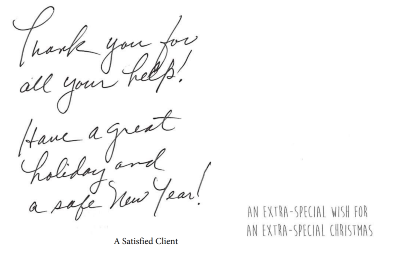 A Satisfied Client - 5 stars
---
April 26, 2018
Dear Mr. Shapiro,
Thank you so much for the time you spent on my tax appeal. I am most pleased with the results because it will mean that I will have a little extra money for medications and necessities of daily living.
Sincerely,
A Satisfied Client - 5 stars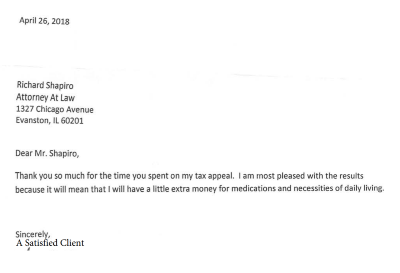 ---
April 20, 2017
Richard –
Thank you for your help.
A Satisfied Client - 5 stars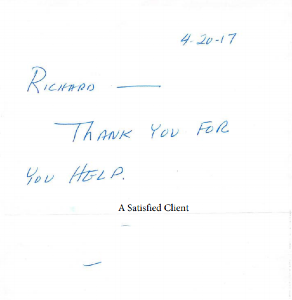 ---
Thank you for your fine work!
I recommend your services regularly!
A Satisfied Client - 5 stars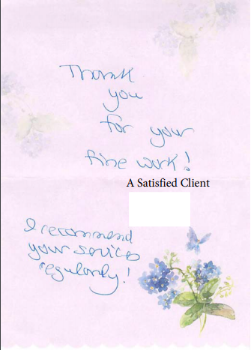 ---
Dear Richard Shapiro and Associates,
Thank you for your work in lowering my property taxes. It was a very nice surprise – (I didn't think it was going to happen – so I didn't open your letter for a couple of days). I'm working on not being a pessimist.
Thanks,
A Satisfied Client - 5 stars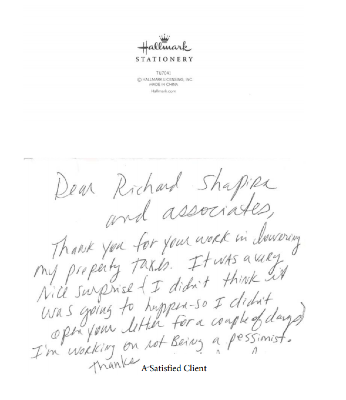 ---
February 7, 2020
I spoke to your assistant, Jeanine, regarding my property tax assessment for 2019. She suggested that I appeal this assessment.
I am enclosing a copy of my tax bill, also a copy of my 2018 property tax bill for you to review.
My personal information:
[XXXXXXXXXXXXXX]
My age is 86.
I am enclosing a check for $50. I would like [you] to know that Jeanine was thoughtful and helpful.
Also, I am including a check of $25 for her assistance.
A Satisfied Client - 5 stars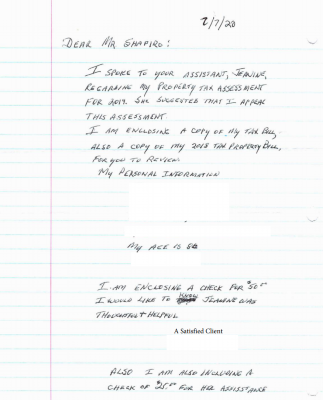 ---
July 10, 2020
Richard Shapiro
Attorney at Law
1327 Chicago Avenue
Evanston, IL 60201-4724
Dear Mr. Shapiro:
I just finished a great conversation with one of your associates, Pia. I wanted to take the time to tell you how much I appreciated her patience, expertise, and ability to help me understand the intricacies of property taxes in Cook County.
I came to your offices through the recommendation of a friend of mine who told me about the good experiences he had when he needed your services.
Since I had never used a property tax appeal attorney before, I admit that I was somewhat leery as to what might happen when I became a client of yours. Needless to say, I am very glad that I did. And, Pia has certainly shown me the wisdom of my choice of your services.
So, please tell Pia how much I appreciated all the information and help that she gave me. I can assure you that, if anyone asks me about needing a property tax appeals attorney, you, your associates, and office will be my recommendation.
Sincerely Yours,
A Satisfied Client - 5 stars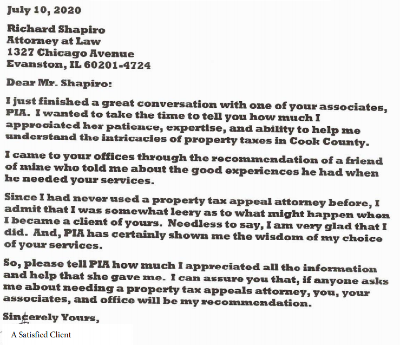 ---
A Satisfied Client - 5 stars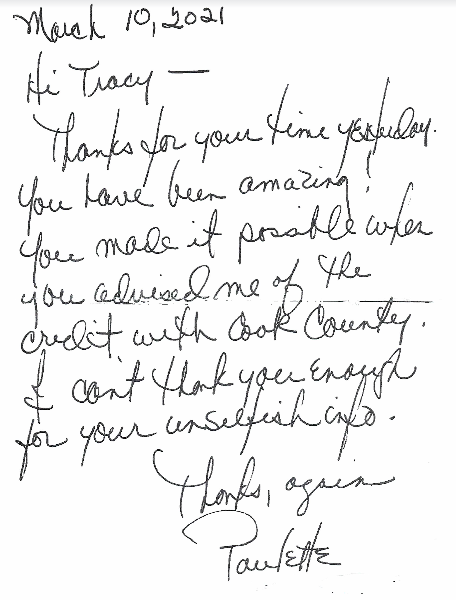 ---
A Satisfied Client - 5 stars